DOWNLOAD FREE 23-page E-Booklet 1
"CFS/ME & FIBROMYALGIA:
An Introduction to the
Neurosomatic Theory of Illness and Recovery
AND
The Principles of the
Neurosomatic Recovery Programme"
by Dr Judith Maizels
with Fiona Adamson
©Judith Maizels, 4th edition published on-line September 2020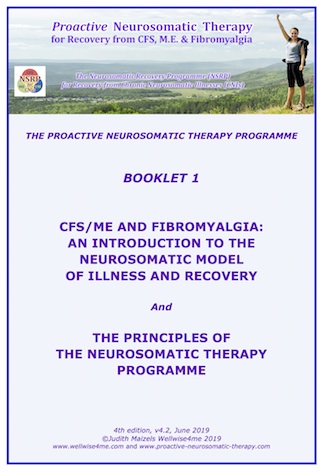 DOWNLOAD FREE 5-page Article on Neurosomatic Therapy
Published in the journal Therapy Today, February 2017, pp22-26.
Chronic Pain. A Neurosomatic Approach
By Judith Maizels and Fiona Adamson
KEY TEXT
(Published November 2015)
BREAKTHROUGH FOR CHRONIC FATIGUE SYNDROME,
M.E. AND FIBROMYALGIA
How Neurobiology and Epigenetics Point the Way to Recovery
Volume 1: Chronic Neurosomatic Illness

By Judith Maizels PhD, Dip CBT, MBHMA
with Fiona Adamson M.Litt., Adv. Dip. Psych., MBACP
Foreword by Dr Ruth Sewell


Click Here for further details & purchase of the book from Wellwise Press
(NB: Price reductions for people diagnosed with CFS/ME or fibromyalgia)

"Cutting edge, revolutionary, and meticulously
researched,
this book's message is so important."
Dr Patricia Rouse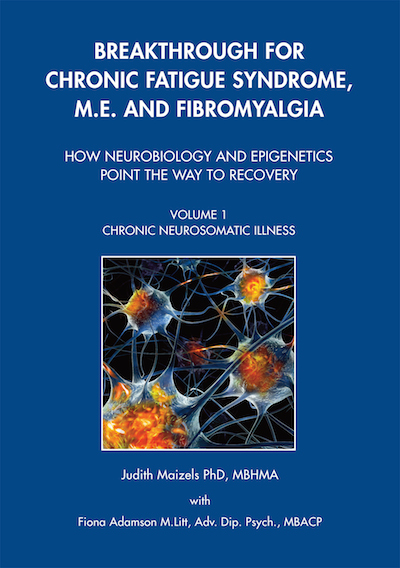 756 pages RRP £34.50
NOW ONLY £23.00
SPECIAL 30% REDUCTION
Buy the book

Volume 2: Recovery from Chronic Neurosomatic Illness
Due for publication in 2022
Volume 2 reviews the role of epigenetics in illness and recovery, and introduces the Neurosomatic Recovery Programme and the concept of Neurosomatic Intelligence.
FREE: Download PDF of Contents of Vol 2